News/Events/FAQs pages allow different articles/information to be entered as listings on one page. Each listing contains a title and a short summary, and a link to the full article/information page.
When adding a page for the first time, you'll be required to add a short summary on the first page, then click to add full page text. The summary text does not automatically appear on the full page text page, so if you want it to appear on the full page you'll need to enter the same text in both the summary and the full page area.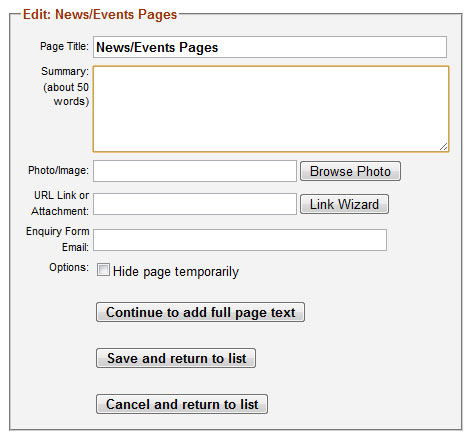 To add one of the 4 events page types, click Add a new page, Alternative layouts here beside
Gallery Page/News/Events/FAQ
Adding your news & events items to another page
You can add your news or events items to another page - for example your homepage.
See the advanced topic Add a news or events feed to another page.