The Homepage Featured Grid snippet block allows you to load any products you promote to your homepage, into a grid layout.
You can add multiple sliders, each set to a different homepage promoted status.
There is also a SLIDER version of the snippet block available.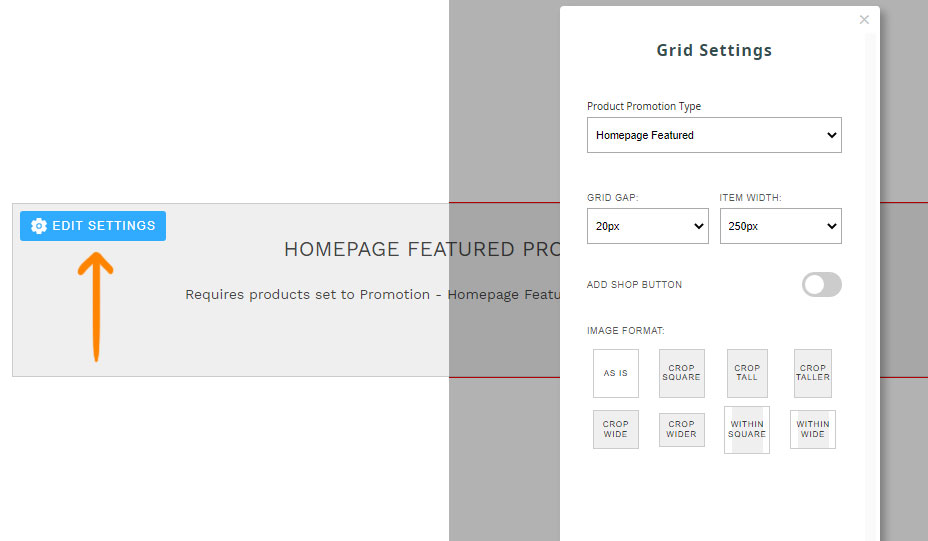 Clicking the Edit Settings button will launch the settings popup for the snippet block.
Product Promotion Type: Set the type of homepage feature items you want to load in (Featured/On Sale/New/Best Seller)
Grid Gap and Item Width: Set the dimensions of the items in the grid

Add Shop Button: Add a shop button to the grid items
Image Format: Change the shape of the images within the grid

Where to set your products promotion status
Where to add the Homepage featured grid snippet
When you click the ADD SNIPPET BLOCK green button, click Sliders on the left-hand side. You will find the featured sliders snippet block in the list of options under SHOPPING.
Full-width Grid Layouts and Blurry Images

If you want to see your grid layouts go full width across the page learn how you can change your Contentbox content to display Fullwidth
If when setting the page fullwidth your grid thumbnails are blurry learn how you