Blog pages are great for quickly posting new thoughts or longform opinions to a website. They are also a good source of content to help search engines understand what your site is about.
The blog pages have a main content windows that provides a summary of all posts, with a sidebar to filter by month and tags for categorisation. Clicking into the blog page gives access to the full article.
There are multiple layouts available, the most common being the standard list-based layout and 3 Column gallery layouts. The layout can be changed via the small layout tab at the top-right of the screen.

Creating a Custom Filename
You can give your post a custom filename rather than the default system generated one via the Search Result Filename: field on the right.
If you add a backslash at the front e.g. /my-pages this will remove the /blog/ prefix from the filename e.g. https://yourdomain.com/my-pages instead of https://yourdomain.com/blog/my-pages
Blog Tags - Tagging posts for categorisation
You can add tags to posts via the Blog Tags field. Separate multiple tags with a comma. Spaces allowed.
Tags will appear as a vertical list in the sidebar.
Clicking a tag will show only posts with the assigned tag.


Future Dating Posts, Archiving Posts
You can set publishing dates for the blog posts, to schedule a series of blogs in advance.
Setting the archive date and delete date with hide the posts, or delete the posts on the specified day respectively.
Changing from the default TinyMCE editor to the richer Drag-drop editor
You can change the editor used to create your post by clicking the Full Text tab at the top-right, which will launch the page in a full editing window.

You can then choose a different editor via the Change Editor dropdown.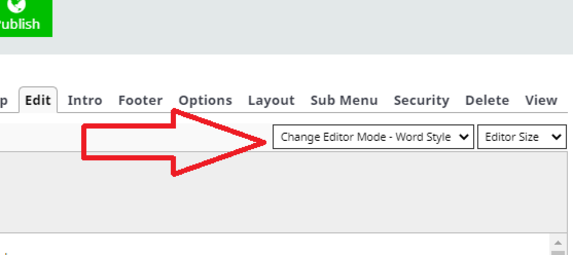 For a video demonstration see https://www.help.cms-tool.net/using-drag-drop-in-blog-and-events-pages
Post orders appear by default with the most recent post at the top of the list, but you can change the order of the posts by clicking the page OPTIONS tab, then the sorting dropdown.

Clicking the page OPTIONS tab will show a series of settings, look for the Page Layout Customisations section, then choose the required option from the SORTING dropdown.