Featured products boxes
The CMS now has featured product boxes, which allows products from your shopping cart to be promoted in special areas of your website template.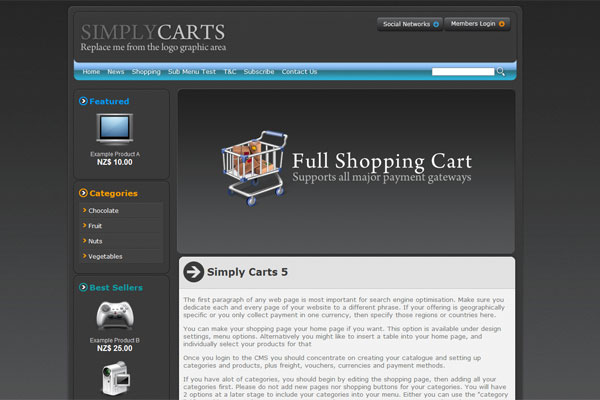 Above - A simply carts template with Featured and Best Seller boxes visible on the left
The featured product section areas are named as follows:
FEATURED PRODUCTS
BEST SELLERS
NEW ITEMS
ON SALE
If you're using the right templates, you can make use of the new shopping cart featured product boxes.
Which templates use the new featured product boxes?
When choosing a template, all templates listed under the E-Commerce section, will have support for the featured products boxes.
If you're a webdesigner or building your own template you can add tags to enable this functionality - see the TAGS OVERVIEW page for more information.
How do I set a product to show up as a featured product
In the shopping cart area, navigate to the product you would like to set as a featured product
Choose to edit the product
From the PROMOTION drop down, choose the featured product box to list the product in.
Press save
By default all products are listed as GENERAL, which are not featured products and will only be seen in the cart area.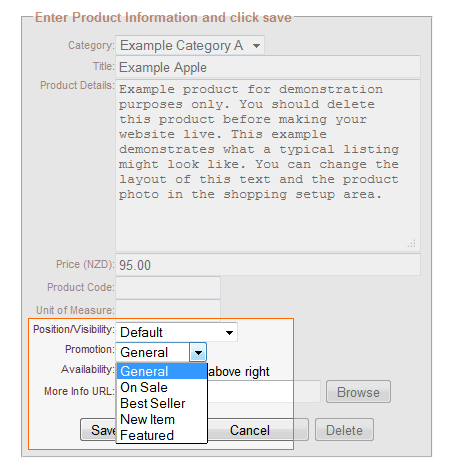 Above: the Edit Product screen with the promotion drop down visible.
To remove a product from a featured product box
Set the product back to GENERAL