We can manage all our events by using the Current Events tab which is the default page when entering the Events Management area.
Our events are listed by date. Each listing as four options and a delete function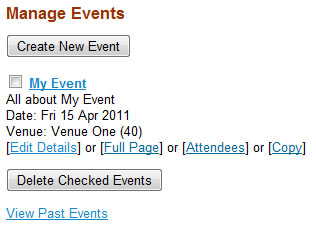 Edit Details takes us back to the event creation page where we can now change dates or add Venues and Products that you have recently set up
Full Page: Takes us to the full page editor where we can add as much information as we like about the event.
Attendees: We can now manage the people attending, we can add attendees manually, delete those that are not coming or move them to other dates or events, We can resend automated emails and invoices and follow up on non-paid bookings
Copy: If you are holding the same event on another day or time then you can simply copy the event and adjust the essential details.