The Main Toolbar (top)
Once logged in all the tools needed to build your website can be accessed
via the buttons at the top of the screen.
Welcome Section
View system messages, check usage, account summary
Design Template, colours
Change your template style, font colours and advanced web design functions, change the sites Global Contact Details
Managing Web Pages
Edit your page content here. Add, rename remove pages etc
Managing Domains and Email
Search, setup or transfer existing domain names. Manage your email setting, accounts.
Search Engines and SEO
Submit your website to Google, Bing and more, Optimise for SEO (Search Engine Optimisation)
Managing Members
Manage your website members, download reports and more
Managing Security
Manage passwords, member logins, site-wide passwords
Files and FTP
Manage all your website files, images, PDFs. Find FTP settings, instructions.
Account Management
Pay your account, choose hosting plans, view your account history and more.
The Pages Toolbar (left)
Displays a list of the various page types on the server allowing you to quickly access a page for editing. You can add each page type via the yellow ADD PAGE button below each section.
Web Pages
Displays a complete list of pages on your website. Only the top level is listed, but by hovering over a page, any subpages appear in a pop-out window.
Hidden Pages
Shows a list of pages that have been set to be hidden from the menu.
Members Pages
Shows a list of pages that have been set to be restricted to authorised members only.
CMS Menu
The top menu options are also available via CMS MENU buttons for quick access. These buttons take you to the main page for each area. No pop up options are available on mouse hover.
Edit Page Options (otherwise known as the LITTLE GREY TABS ON THE RIGHT)
When you choose to edit a page, a series of shortcuts to various options will appear on the right hand side of the editor, sitting below the main and preview/publish toolbars.
The tabs are the quickest way to navigate around the different options available for any given page type.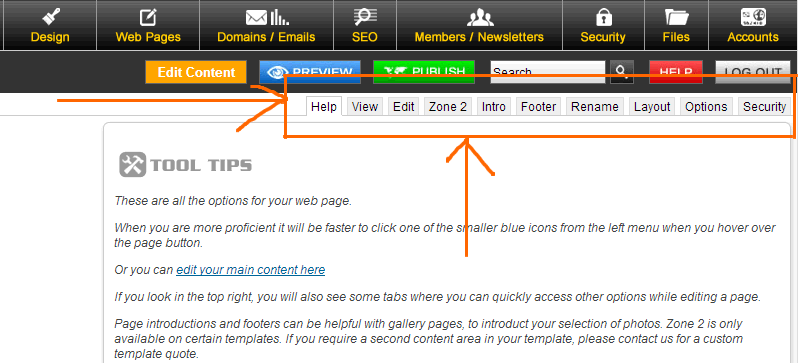 ABOVE: The top level of EDIT PAGE OPTIONS available for a standard page. Some pages such as the Shopping cart page will have multiple levels of of grey tabs available depending on where your are in the CMS.
Top Level EDIT PAGE Options
| | |
| --- | --- |
| HELP | The default page you land on when you choose to click on a page from the left-hand menu. |
| VIEW | Opens a PREVIEW of the current page in a pop-up window. Ctrl + Click this link to open in a new tab |
| EDIT | Will take you to the main editor window for adding text and images |
| ZONE2 | An additional content area for adding text and images. Availability depending on theme chosen. Can be located anywhere within the theme e.g. a sidebar. |
| INTRO | An additional content area for adding text and images. Appears above content added in the main EDIT window |
| FOOTER | An additional content area for adding text and images. Appears below content added in the main EDIT window |
| RENAME | A shortcut to the rename options area for the page. Reorder, Rename, Add Page banner, filename for page etc... |
| LAYOUT | A shortcut to the change layout options area for the page. You can change the page layout to another, similar page type. |
| OPTIONS | A shortcut to the page options. Change the template used for the page, add a captcha or enquiry form, where contact forms get sent etc... |
| SECURITY | Security options for the page, show only to certain site members, set administrators for the page etc... |