You can add a comprehensive reviews and ratings system to your ecommerce website very easily.
The Rating Widget
The 5 stars rating widget will appear just below the buy button. Users can see the current rating with full stars, and they can click on the stars to popup a rating/review widget.
You can enable this widget in the customise shopping area, in the view product section .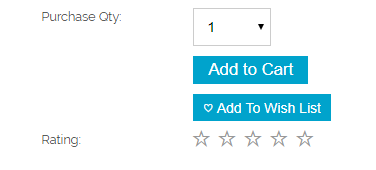 The Popup Rating / Review Form
This popup rating/review form allows users to post their review/rating. Either click the rating stars or the the REVIEW button in the reviews tab to see this form.
This form requests their email / robot captcha only if they are not logged in, nor following a link from a ratings / review email.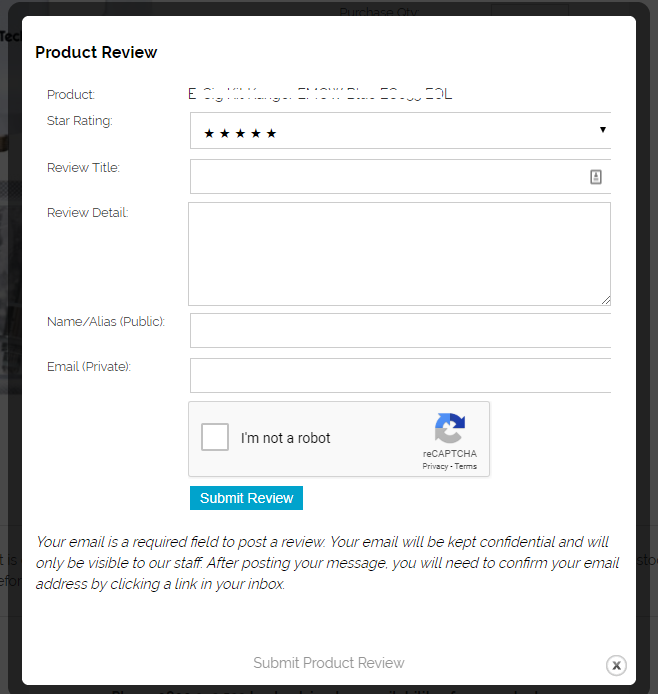 Automatically Send Rating / Review Request Emails
An email can be sent to customers after a selected amount of time, prompting the customer to make ratings or reviews. This can be enabled in the customise shopping area, in the notifications section.
When a customer clicks on a link in the rating/review email, they do not need to login, nor enter their email nor complete a robot captcha. They can complete a rating in a single click, and optionally add review text after that.

Monitoring Spam / Reviewing Reviews
If this is the first rating/review a public website user makes, they will be prompted to verify their email address. There rating/review will not be visible until they verify their email address. Once their address is verified, they will be able to post more reviews more easily.
The webmaster will be sent a notification. They can verify the posters email address on their behalf, thus making the message live. Or the webmaster can delete the post if it appears malicious in nature.
Customers who are sent a rating/review request, can make reviews more easily. These ratings and reviews will be made live immediately.
At any time, the webmaster can review all recent reviews and forums posts via the FORUM tab at the top of our CMS (when logged in to the CMS, and when there exists at least 1 review)
Minor typos in a review can be edited by the webmaster.
You can permanently block some key words like "Rayban Sunglasses" if you like, to prevent form spam.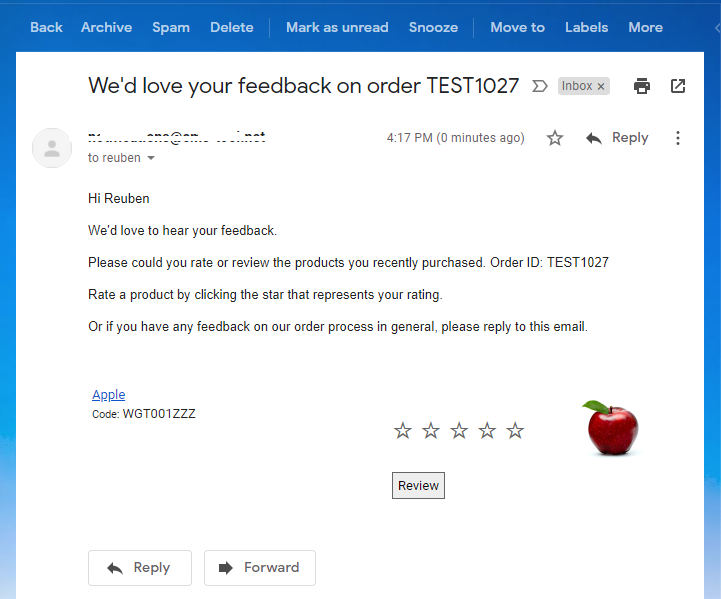 Google Product Search Schema
All rating and some review data will transfer to google advanced product search schema.
Notes
- Ratings and reviews require an email address, because anonymous reviews may be of a lesser quality.
- Sending review requests by email after 1 or 2 weeks will allow some time for deliveries to be made, and customers to be at the most enthusiastic mindset for making good reviews. Reviews may diminish after goods have aged .
- Reviews will be ordered on a product with the highest ratings at the top, and reverse date order within each rating band. Only the top 10 reviews will show, which means over time, the reviews will give positive impact to the page.
- You can encourage customers to leave reviews by offering incentives and engaging with each review.