There are a few steps required to create a form which allows files to be uploaded as part of a form, which then gets attached to the email received by the website owner
Choose the correct page type for your custom form
Insert the correct input field into the page
Choose the correct page type to enable file uploads
When adding a new enquiry page which requires the ability to upload files:
Choose to Add Page from the left-hand column
From the available types, choose Questionaire / Survey / File Upload / Enquiry Forms
From the list of available forms, choose Custom Form Page with File Upload as your new page type.
Insert the correct input field into the page
Choose to edit your questionnaire form. Your new page will have some default fields added which you can keep or remove as you like.

You can add up to three file upload fields by: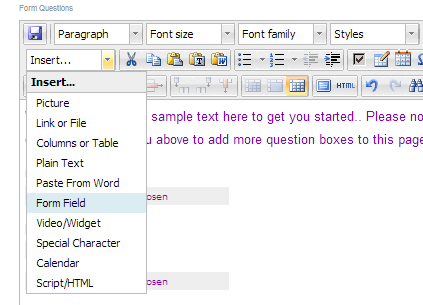 Choosing FORM FIELD from the INSERT dropdown field within the editor (shown above);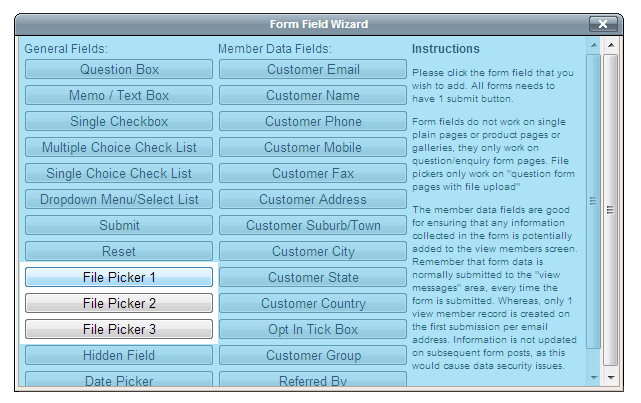 Press file picker buttons 1-3 to add up to three file upload fields.

Save and publish your changes and the form should now accept file uploads!
Adding the filename to your custom notification
If you are adding custom notifications to your enquiry form and would like to show the filename in the custom form the tags to use are: [attach1_name],[attach2_name],[attach3_name] depending on which file picker you added.